Skip the take-out and master stir-frying from your own kitchen. You're 20 minutes away from a delicious meal bursting with flavor.
Tips for Stir-Frying Pork
Wok — a traditional round-bottom pan — is required when stir-frying. The unique shape ensures that heat is distributed evenly, allowing for faster cooking times.
There are multiple stir-frying methods including, the Chao technique and the Boa technique.
Using small pieces of pork or thin strips prevents the dry and high-heat cooking method from overcooking the outside of the food before the inside is fully cooked.
Prior to cooking the pork, make sure it is room temperature so that the cold meat does not drastically reduce the heat in the pan.
The food should also be constantly stirred around in the pan to provide consistent cooking, hence the technique's namesake.
You may choose to coat the pork in another material that will protect the inside while providing flavor to the dish. This can be anything from flour, breading, or batters, which when fried act as an insulator to protect the inside from direct contact with the heat.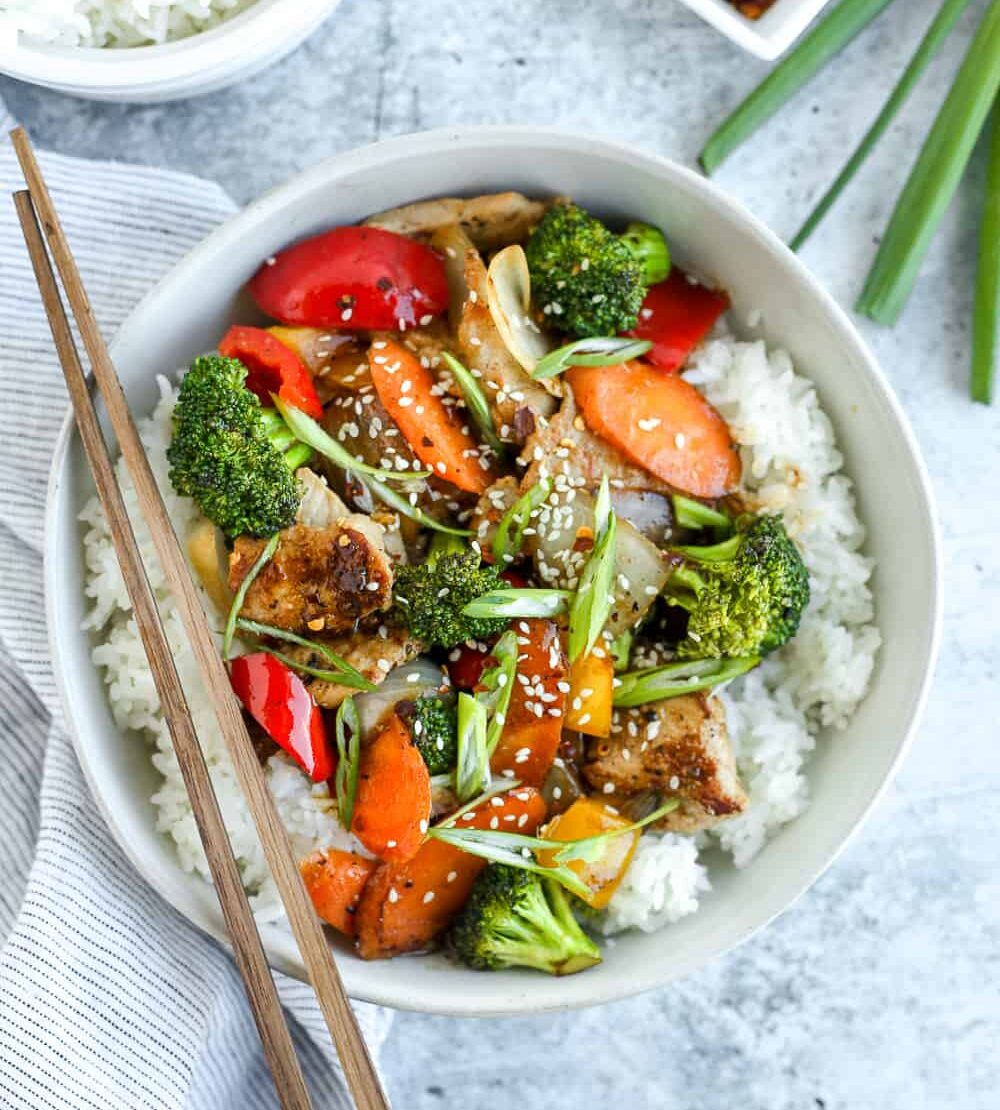 Stir-frying Pork
Stir-Fried Pork in Garlic Sauce
In 35 minutes or less, you'll have the best stir-fry using lean pork tenderloin. Flavorful protein and nutritious veggies make for a dinner that's easy to enjoy!
To begin, remove silver skin from your pork tenderloin and cut into bite-size strips. On high, put 2 tbsp. of peanut oil in a large nonstick skillet. Add 2 tbsp. of minced garlic and 2 dried chiles, cooking for one minute. Add the pork and stir once or twice for another minute. Add the white parts of the scallions and stir occasionally, cooking for another minute. Stir in the green parts of the scallions, for 30 more seconds. Lastly, turn off the heat, add the soy sauce, and serve immediately on white rice!